This Sunday will be the first Sunday of advent, hasn't that come round fast? It certainly doesn't feel like 12 months since this >>>
Last year Littlebit didn't really "get" Christmas. This year she still won't totally understand but she'll comprehend a lot more. She'll get excited, she'll enjoy unwrapping her gifts, she'll basque in the friends and family being around her. For this reason I am even more excited about Christmas than usual.
I love Christmas! Absolutely adore it. I get really emotional and just love entertaining and having all the people we love surrounding us. I want to make it super magical for my little family. So here are the Wilson Christmas traditions, some old and some new.
Tomorrow (Friday) night we'll go to the village Christmas lights switch on. The streets are usually packed out as the festive feel takes over. There's always late night shopping, a variety of stalls dotted around the village, music, entertainment and kids rides.
Have you ever wondered how Santa knows who is naughty and who is nice? On the 1st December our Elf on the Shelf, Elden, arrives for the season. Elden, our scout elf, is the very special tool that helps Santa know who to put on the Naughty and Nice list. He's an interactive hide-and-seek tradition and is perfect for toddlers and children alike. Elden will be appearing in all sorts of weird and wonderful places this year and I can't wait to see Littlebit get excited each morning to find him.
On the first Sunday of advent, this year the 2nd December, our Advent train will be arriving (it actually arrives when the decs go up but we don't open it until the first Sunday as is traditional). Most days have a simple Divine Fair Trade chocolate heart, but some have some other little surprises too.
We also have an advent book called The Story of Christmas which we read each day and place the daily books on the Christmas tree (when it's up!) This reminds us of the real meaning of CHRISTmas.
We'll be putting our tree and the other decorations up around the 1st December this year, we used to wait until after Daddypinkwellies birthday on the 4th December but he's agreed that they can go up early this year so Littlebit can get excited sooner
. I love this part of Christmas.
We also write Littlebit's letter to Santa this
week. We'll be paying a visit to the man himself at either our local garden centre or the Snowdome in Tamworth too sometime this week. Around this time the local firestation do their Rudolf Run too to raise money for the Rudolf Fund. This is a sleigh that travels around the town and all the local villages.
<< This is Littlebit having a cuddle with Santa last year.
We start to read Festive books at bedtime around this time too. Littlebit will receive a couple more from Elden this year.
There is Christmas music played throughout the month.
The middle weekend of the month Littlebit is going to stay with her Grandparents while we have some adult time at the Birmingham German Christmas Market with our bestest friends. We've never been in the evening before and I am soooo excited about it. The following day we're having our Christmas family meal for my side of the family before everyone disappears around the country and in fact the world for their Christmases.
On 21st December we'll all troop back into the village for the annual Carols Round the Tree event. Crowds gather around the illuminated tree near the parish church, enjoy an open-air service and raise bucketfuls of money for charity. Everyone then heads into the church for a cup of something warm and a mince pie. It's just lovely.
On the 23rd December we're back off to Birmingham, with Littlebit this time, to the Town Hall to watch The Gruffalo's Child, which has kindly been arranged by my fellow blogger Cat over at Yellow Days. There will be a review of the show after we've been so look out for that. It looks pretty awesome though.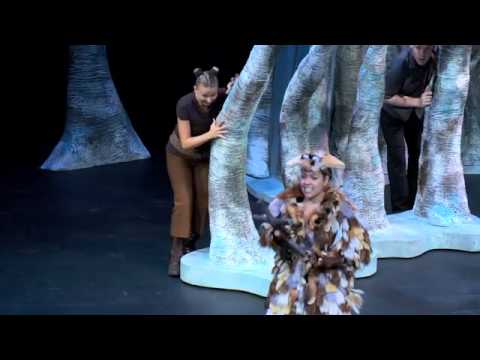 On Christmas Eve Elden has to return to the North Pole, but before he leaves he brings us our Elf's Hamper of treats, which he leaves on the doorstep with a sign that says "Open at Sunset on Christmas Eve", it will contain:
New Christmassy pajamas for Littlebit and me
New Christmassy slippers for Littlebit
A Christmas DVD to watch before bed snuggled in our new PJs
Popcorn
Christmassy chocolate
Hot chocolate with marshmallows
The Night Before Christmas book – I've got this beautifully illustrated version which comes with an audio CD too
The final book from our Story of Christmas Advent book to hang on the tree
We will bake cookies for Santa during the day on Christmas eve and then the evening will be spent with our friends, and Littlebit's Godmother watching the Christmas film in our Christmas pajamas getting excited about the next day. Just before bed we'll put out a glass of milk and some cookies for Santa and a carrot for Rudolf and Littlebit will find them gone when she gets up in the morning.
Christmas morning we like to have to ourselves, just the three of us. I think this is really important.
The both our parents and my Granny will arrive for lunch with other members of the family joining us for tea. Perfect!
Boxing day is a day to play with new toys, walk on the local common and play games late into the evening with friends and family!
So that's my festive forecast. How is your Christmas looking this year? Link up below and I'll pop over, have a read and be inspired
Happy Christmas!
Related Posts: