A big girl bed… magic moments
So, last week my big girl moved from her IKEA cot to a big girl bed, well a junior bed anyway. She's probably been ready for this for way longer than I'd like to admit. I didn't like the thought that she'd be able to get up and play with her toys wreak havoc while the rest of the house sleeps though so I'd been putting it off.
But now, she has a brand new place to sleep and she loves it. We also bought her a Gro Clock and this has worked a treat. It comes with it's own little story book that explains in simple terms set around a farmyard that when the sun is up it's time to play but when the stars are out it's time to sleep.
Each morning, if she wakes before the sun is up (which is set for 8am) she waits, chattering away to herself. When the sun rises at 8am she'll shout from her room "Mama the sun is up, can I get out of bed and play". She even asks if she can get up. It's brilliant! I don't know what I was worried about.
She has a little place to play and a place to sit and read and relax.
And most of all her room is safe. We have tidied the cables into neat little boxes, attached the heavy furniture to the wall, added a hook to her blinds so we can hook the dangerous cord away when not in use, found the key for the window which now stays locked with the key on a high shelf out of reach, put covers into the unused socket and made sure the stair gate is secured on her door. She has her own little safe place to play.
This is a magic moment because it's one more step to her growing up.
First night, fast asleep in her big girl bed (sorry for the blur but I had to take it with no flash so as not to wake her)!
First morning after a good nights sleep in her new bed. Happy Littlebit. Happy Mama.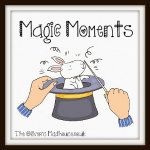 Related Posts: